Back
How to Choose Door Hardware for your Kitchen Units
Although you might not think it, kitchen cabinet hardware is without a doubt one of the most important aesthetic choices any interior designer will have to make. The kitchen cabinet handles, pulls and knobs that you choose will be what adds that striking finishing touch, catches the eye and pulls the entire scheme together.
For designers and specifiers it's usually a good idea to plan these features in as early as possible, as it will help guide choices regarding units and work surfaces. To assist with the decision-making process, we have pulled together all the important details to consider when choosing kitchen cabinet hardware.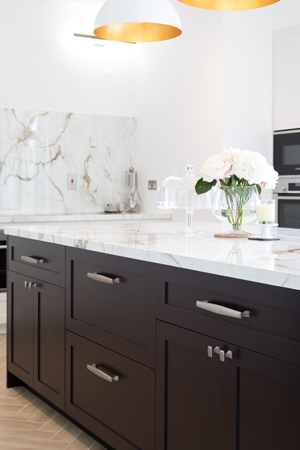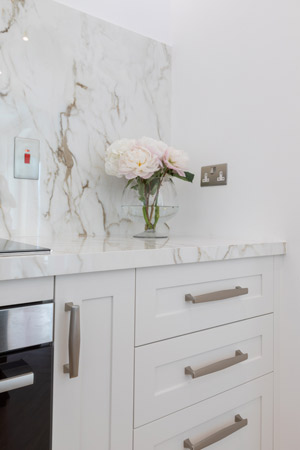 Consider the Quality and Materials
Now, this one is a given! When choosing kitchen cabinet hardware for an interior scheme, the quality of the product is just as important as the style. The material will be what helps to create a statement impact and will provide a more superior and sophisticated finish – something that prospect buyers will be looking for. There are a wide range of materials to choose from, but we find that Solid Brass is a superior choice that will add a quality finish to any kitchen.
There are specific finishes that work better with some worktops and kitchen units, for example Satin Brass and Antique Brass pair exquisitely with heritage colours, such as dark navy and deep shades of green. Here at Heritage Brass, we offer a wide range of kitchen door handle and pull options, meaning designers and specifiers can find the perfect finishing touch for their projects, no matter the design brief.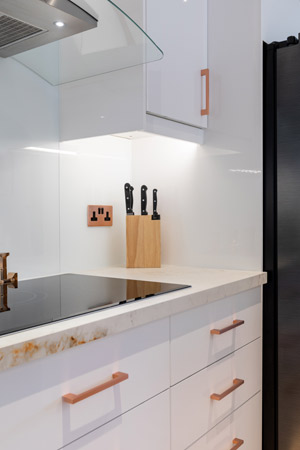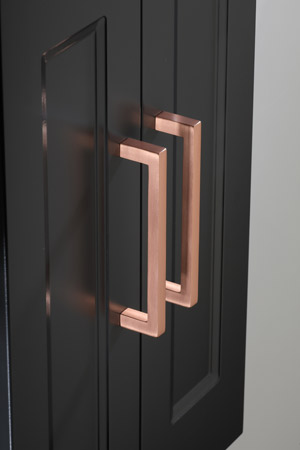 Take into Account the Style
Once the finish is decided, the style of the kitchen cabinet handles and pulls will need to be considered. Make sure the overall aesthetic of the property and the space is taken into consideration when making a style choice, especially within large open-plan projects. Create mood boards to show clients to ensure they are happy with the style and finish you are suggesting, it is advised to visit a local stockist to see our array of finishes and styles in person before making any final decisions. Be sure to take photos of the cabinets and work surfaces along with you, or samples if you have them, so you can see what the hardware will look like in the kitchen or bathroom and play around with what looks best.
In terms of style, for contemporary kitchen cabinet handles or hardware, we would recommend opting for a timeless design, such as our Satin Nickel finish. The pull handle options in this material work exquisitely with sleek white cupboards and marble-effect worktops, creating a space that will appeal to many. A more traditional finish, for your kitchen cabinet handles, can be attained with our lovely traditional cabinet drawer pull designs as they offer a characterful look that pairs beautifully with wooden cabinetry and classical accents.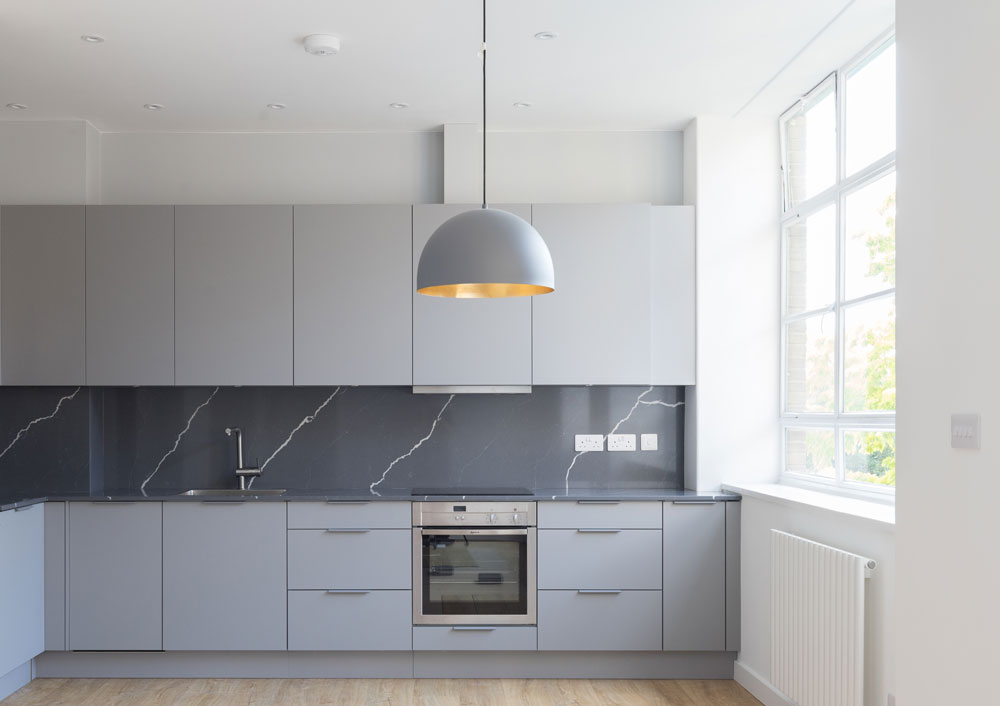 Make Sure it Coordinates
Last but not least, make sure that the kitchen cabinet hardware coordinates! This isn't a fundamental rule, but we feel it's important for any kitchen interior to be as cohesive as possible, as it will create a seamless look which will be appealing to the eye.
It's also important to make sure that the electrical sockets and handles match too, you will find that all of the hardware finishes across our range can also be coordinated with electrical accessories, meaning a statement scheme can be achieved that not only matches in colour, but looks the part too!
Our Summary
Choosing the right door handles and hardware for your kitchen cabinets will help you create a cohesive and appealing aesthetic. When deciding on which kitchen cabinet handles, pulls, or knobs to use in your design scheme, it's important to take into account both the quality of the product as well as its style. Consider what type of finish you want- whether that be satin nickel or antique brass. Then decide if sleek white cupboards with marble worktops are more appropriate than traditional cabinetry with classical accents. The next step would be making sure that all colours matched together from electrical outlets to door handle finishes; Door Hardware has an array of options for any situation!