Back
How to add Luxury through Hardware with Heritage Brass Door Handles
Classic meets modern in this elegant residential property, with each room presenting a sophisticated look and feel. Our sleek Antique Brass door hardware and electrical accessories were chosen for the kitchen, bedroom, living room and bathroom, enhancing the feeling of grandeur throughout. Heritage Brass door handles and accessories are the perfect choice for those who want to inject a touch of luxury into their home. The beautiful antique brass finish is stylish and timeless, making it the perfect choice for any property. With a range of products to choose from, you're sure to find the perfect accessory for your needs.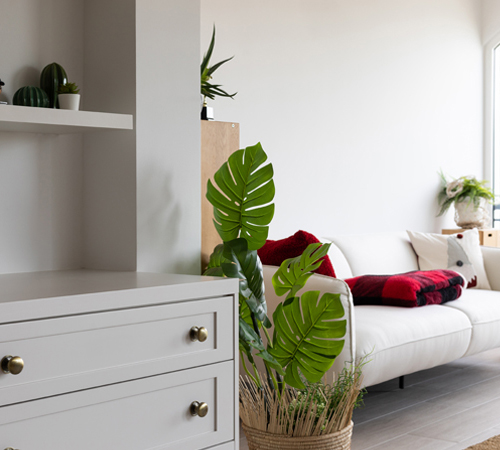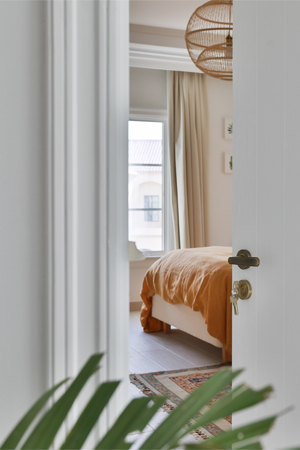 Featuring our Metro Cabinet Pull in Antique Brass
Statement Brass Kitchen Cabinet Door Hardware
Showcasing a contemporary colour palette of olive green and soft cream, the kitchen has been carefully designed to deliver an open and on-trend aesthetic. Used across all of the cabinetry, the Antique Brass Metro Cabinet Pull handles offsets that hint of understated luxury, making it a prominent feature that catches the eye. The naturally warm hue of the refined dark design pairs exquisitely with all different cabinet styles and works particularly well with shaker-style kitchen units for a vivid contrast that's in keeping with its traditional appearance. Brass kitchen handles and knobs add a touch of glamour, elevating the overall look and lending it an extra layer of sophistication.
We particularly love how the décor throughout this space has been further characterised with wooden textures, pretty planters and modern accessories for a refreshing appeal.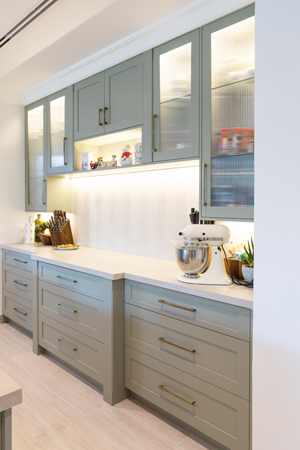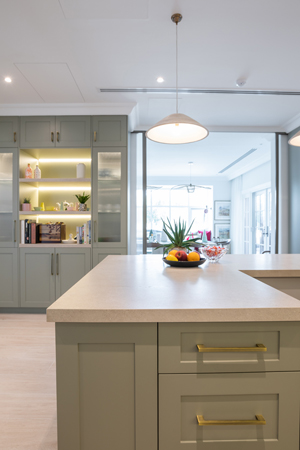 Featuring our Metro Cabinet Pull in Antique Brass
Delightful Heritage Brass Door Hardware and Dressing Room Cabinet Handles
To keep the look consistent throughout, the homeowners chose the Antique Brass door handle finish for the hardware in the main bedroom and dressing room. The Victorian Round Cabinet Knob with Base in Antique Brass sits beautifully on the white island cabinetry, coordinating with the brass handles on the wardrobe doors for a superior finish.
Across the bathroom and other areas of the home, the doors have been elegantly adorned with matching hinges, escutcheons and Century Door Handles, ensuring a continuous flow from one room to the next with Heritage brass door hardware.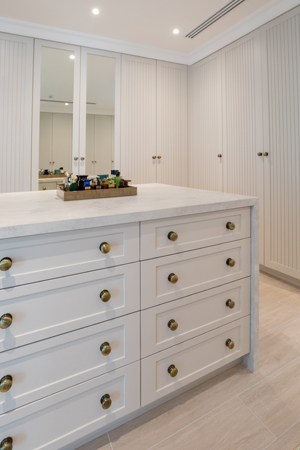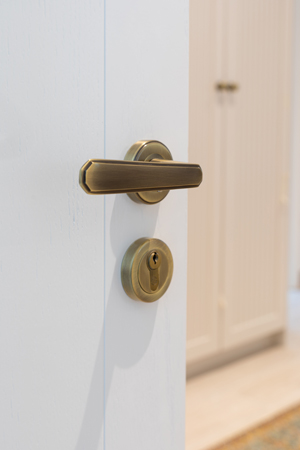 Featuring our: The Victorian Round Cabinet Knob with Base in Antique Brass, Century Door Handle on Round Rose in Antique Brass & Euro Profile Cylinder Escutcheon Round in Antique Brass
Understated Electrical Sockets by Heritage Brass
Keeping the overall space understated and functional, a discreet Matt White finish was selected for the electrical accessories. The homeowners opted for the 20A Double Pole Switch, 3 Gang Rocker Switch and the Double USB Socket in Vintage Matt White for a look that beautifully complements the clean white walls and antique brass hardware and handles. This finish also features a textured surface that is resistant to finger marks, making it an easy to maintain and a practical option.
With the addition of Heritage Brass' striking door and cabinetry hardware and electrical accessories, this stunning property has been transformed into a desirable family home that is not only full of character but completely cohesive too.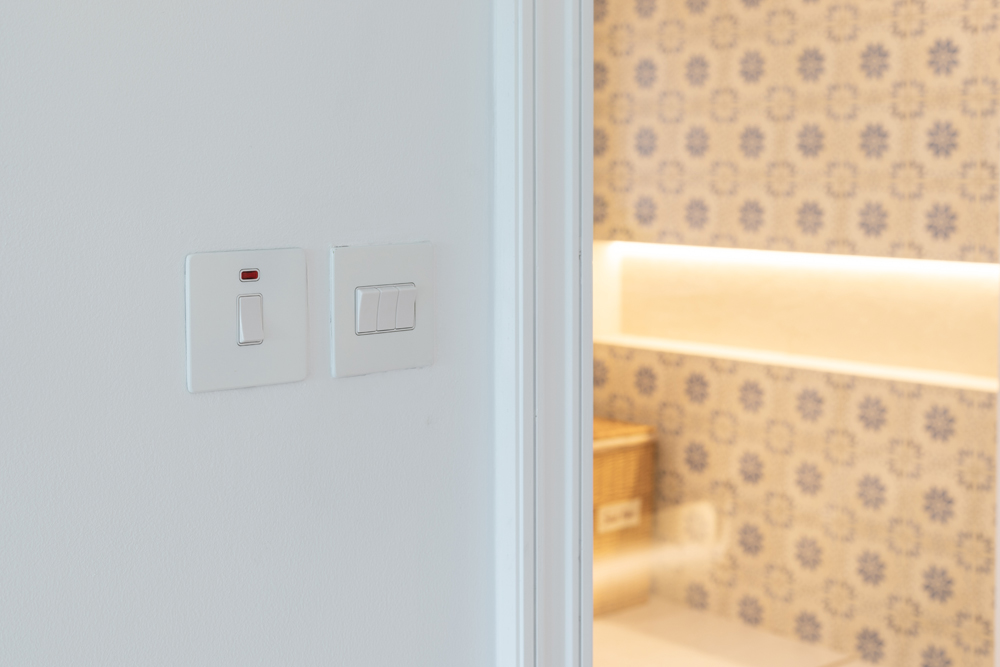 Featuring: Vintage Matt White 3 Gang Rocker Switch, Vintage Matt White 20A Double Pole Switch with Neon
Get the look